Some great sporting news to share with you from one of our members: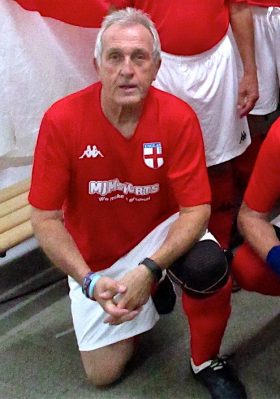 Keith Harris was selected to play walking football for the England 70's team after 3 regional trials were held in Swindon, Gloucester and Worcester. He played against Guernsey FA on Friday evening 1st November in the inaugural international match for the England squad, Keith is the only representative from the South East England region to be chosen.
I'm sure you would all like to join in by congratulating him and wishing well done in his first match and that we all look forwrd to him making many more appearances.
Match Report From Keith Harris:
"The match was played in atrocious conditions in Guernsey and the England team won the game by 2–1, it was a fantastic weekend and such an honour at my time of life to play football for England and to put on that famous red shirt, many thanks to the Walking Football Association, Guernsey FA and my club Walton Walking Football for giving me the opportunity of a lifetime, my family and friends are so very proud of me, as I am, that I have represented my country at the highest level of the game."