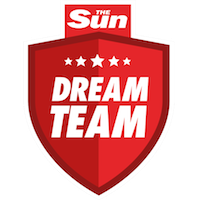 Some of the Walton Walking Football players are pitting their wits against each other & their "knowledge" of football by participating in their own mini league of The Sun Dream Team Fantasy Football Competition. The prize, at the end of the season, will be a trophy to the winner & a wooden spoon for the loser … plus bragging rights of course.
We shall post regular updates of the table, though you might have to watch out for Dennis Howard to either Photoshop's the league table to make him appear first or is a little preemptive in bragging about his lofty position before the weekend's fixtures are even complete.
The Sun Dream Team also has various generous prizes for anyone lucky enough to do well in the newspaper's national competition.
Players so far are :
Anthony Proud (Lion Killas)
Chris Callaghan (Walton Walking Superstars)
Dennis Howard (DenMUFC)
Dennis Howard (Dirty Dens)
Gordon Harris (GH Hotspur)
John Crawford (What Do I Know)
Larry Dann (Banjos Beauties)
Mark Blythe (Blythys Oranges)
Paul Wheatley (Moosehead)
Richard Scorer (Scorchio's Allstars)
It is not too late to join in the fun. If you are a member of Walton Walking Football. Just create a team, and enter the pin number to join our mini league.
Website: www.dreamteamfc.com 
League Name: Walton Walking Football
League Pin Number: SGHM22AX
Here is the latest league table standings as of Sunday 5th November 2017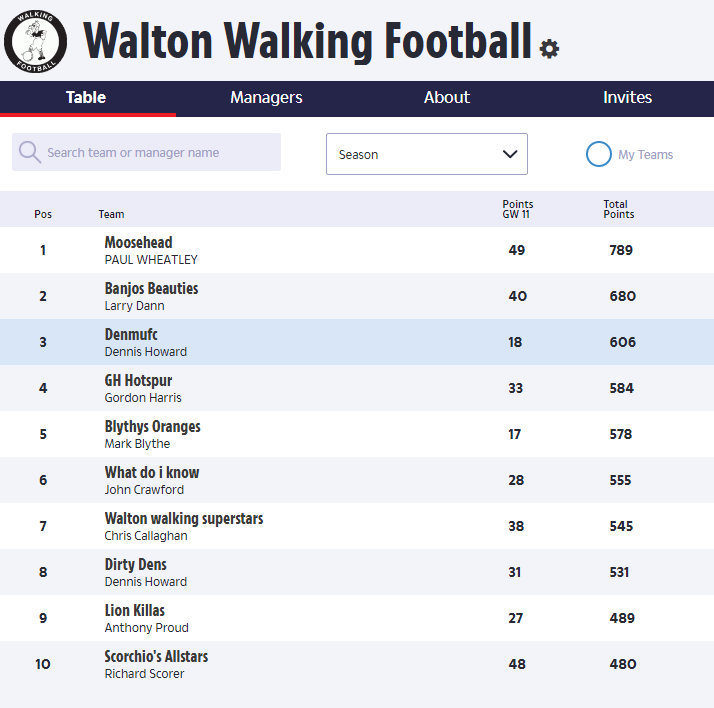 Game Week 11 Winner – Paul Wheatley – Moosehead = 49 pts
Game Week 10 Winner – Mark Blythe – Blythys Oranges = 107 pts
Game Week 9 Winner – Lion Killas – Anthony Proud = 82 pts
Game Week 8 Winner – Larry Dann – Banjos Beauties = 68 pts
Game Week 7 Winner – Larry Dann – Banjos Beauties = 68 pts
Game Week 6 Winner – Paul Wheatley – Moosehead = 141 pts
Game Week 5 Winner – Mark Blythe – Blythys Oranges = 93 pts
Game Week 4 Winner – Paul Wheatley – Moosehead = 119 pts
Game Week 3 Winner – Paul Wheatley – Moosehead = 62 pts
Game Week 2 Winner – Paul Wheatley – Moosehead = 52 pts
Game Week 1 Winner – Dennis Howard – Denmufc = 96 pts